China-Sri Lanka Joint Workshop on Prevention CKDu Held in Colombo
A Joint Workshop on the Chronic Kidney Disease of unknown etiology (CKDu), co-organized by the Chinese Academy of Sciences (CAS) and the Ministry of City Planning and Water Supply of Sri Lanka (MCP&WS), was successfully held in Colombo on 15 March 2016. The Joint workshop is an active implementation of the MOU on CKDu between CAS and MCP&WS, which signed under the witness of the Presidents from both counties last year.
More than 150 experts and scholars from Research Center for Eco-Environmental Sciences (RCEES), CAS, Peking University First Hospital, Beijing Centers for Diseases Control and Prevention, and Sri Lanka CKDu Presidential Task Force (PTF), Ministry of Health, University of Peradeniya, University of Sri Jayawardenapura participated in the event. The workshop was co-chaired by Prof. Min Yang, the Deputy Director of RCEES, Chinese Academy of Sciences, and Dr. Tilak Abesekara, the Director of Kandy General Hospital. Scientists and experts from both SriLanka and China reported their latest research and reviewed the relevant studies regarding CKDu. The meeting provided a multidisciplinary forum and the topic included water quality, geochemistry, farming and fertilizer, exposure pathways, CKDu diagnostic criteria, medical treatment, and sociology. The two parties finalized the Action Plan for CKDu Mitigation Under Sri Lanka and China Research Collaboration.
President of Sri Landka, Maithripala Sirisena, Chinese Ambassador to Sri Lanka, Yi Xianliang, Minister of City Planning and Water Supply, Rauff Hakeem,Chairperson of Water Supply and Drainage Board, Ansar, attended the closing ceremony of the workshop. President Sirisena received the Action Plan and Roadmap for CKDu studies proposed by the experts from both countries. The president also granted a memento award to Mr. Huasheng Qiu, Deputy Director General of Bureau of International Cooperations, CAS, in appreciation of his serving the Sri Lanka people by initiating the project to eradicate CKDu.
CKDu, a chronic disease with high incidence in the north central region of Sri Lanka, is regarded as one of the most serious livelihood issues in Sri Lanka. Since reported about 15 years ago, CKDu has affected over 40,000 individuals, predominantly among male farmworkers. Since August 2014, CAS has sent delegates led by RCEES several times to the main affected areas in Sri Lanka to find sustainable solution, to visit local families with CKDu patients, to collaborate with water supply, public health and other relevant departments of Sri Lanka.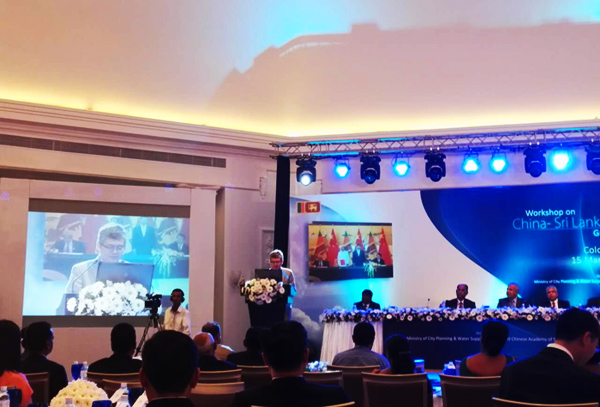 CAS-TWAS Centre of Excellence for Water and Environment
March 18, 2016