RCEES Signs MoU with MIH Cambodia
On 24 March 2016, Research Center for Eco-Environmental Sciences (RCEES), Chinese Academy of Sciences (CAS), signed a Memorandum of Understanding with National Committee on Science and Technology (COST) of Cambodia in Phnom Penh. Prof. Jiang Guibin, Director of RCEES and H.E. Cham Prasidh, Senior Minister of Industry and Handicraft (MIH) representing the two sides signed the MoU. Prof. Bai Chunli, President of CAS, Mr. Tan Qingsheng, Counselor of China Embassy in Cambodia, attended the signing ceremony, alongside Prof. Cao Jinghua, Director General of International Cooperation Bureau, CAS, and Ms. Feng Kai, Deputy Director of International Organization Programmes Division, CAS.

Scientists and researchers from CAS-affiliated Institutes including RCEES, Institute of Hydrobiology, Institute of Intelligent Machines, and executives of two Chinese companies also participated in the meeting. A substantive exchange on further cooperation in talent education, technical training and establishment of a joint water quality analytical laboratory was expanded in two sides during the visiting.

Since 2013, initiated by CAS to enhance scientific cooperation between China and the developing countries, CAS-TWAS Center of Excellence for Water and Environment (CEWE) of RCEES has increasingly carried out the mutual visits and technical exchanges between China and Cambodia. In September 2014, MoU between CAS-TWAS CEWE and MIH was signed to promote the bilateral collaboration. In early March this year, Prof. Wang Dongsheng, Deputy Director of CAS-TWAS CEWE led a delegation in advance to Cambodia clearing the direction and priority of the cooperation for next three years in water and environment sector. The signing of the MOU of institute's level pushes the follow-up scientific and technological collaboration between China and Cambodia to a new higher level and broader scope.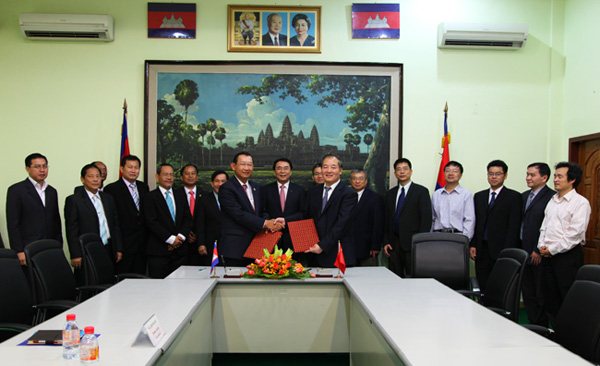 CAS-TWAS Center of Excellence for Water and Environment
 25 March 2016