Prof. Jiang Guibin Visits Cambodia to Boost Bilateral Cooperation
At the invitation of Ministry of Industry & Handicraft (MIH), Professor & Academician Jiang Guibin, Director of Research Center for Eco-Environmental Sciences (RCEES), Chinese Academy of Sciences (CAS), led a delegation to visit Cambodia from March 22-25, 2016,. A meeting was held with Minister of Industry & Handicraft, H.E. Cham Prasidh, in Phnom Penh on March 24. The two sides exchanged their views on cooperation regarding the talent education and technical training in the field of safety water supply, as well as the establishment of a joint water quality analytical laboratory. A Memorandum of Understanding between RCEES of CAS and National Committee on Science and Technology (COST) of Cambodia was signed under the witness of Academician Bai Chunli, President of Chinese Academy of Sciences, and Mr. Tan Qingsheng, Counselor of China Embassy in Cambodia.

On March 25, Prof. Jiang Guibin paid a visit to the Royal University of Phnom Penh (RUPP), one of the largest comprehensive public universities and the only university offering Environmental Science degree in Cambodia. Prof. Jiang Guibin gave an academic lecture to the students and the young staff, and encouraged them to apply for the training program and the doctoral fellowship offered by Chinese Academy of Sciences & the World Academy of Sciences (CAS-TWAS). Afterwards, the delegation met with Vice Rector Oum Ravy and had a talk on the potential cooperation in education and joint research in the future.

The delegation also visited the Ministry of Environment, had a meeting with H.E. Minister Say Sam Al on the bilateral collaboration in environmental protection, and planned to jointly organize a workshop this summer together with MIH and RUPP. RCEES has established the cooperative relations with MIH since 2014. The signing of the MoU will raise the two parties' cooperation to a new level. The expansion of cooperative partners to the Ministry of Environment and the Royal University of Phnom Penh will enhance the cooperation of the two countries in the science and technology area.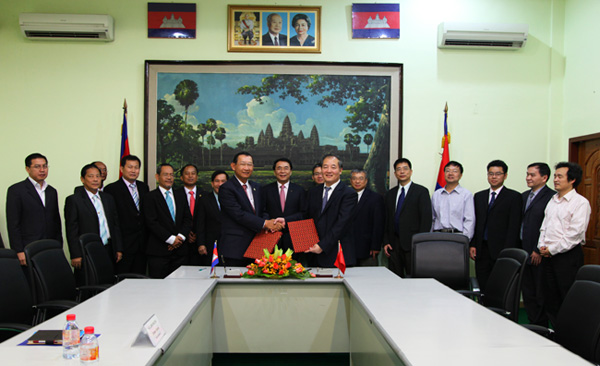 CAS-TWAS Center of Excellence for Water and Environment
 28 March 2016