Xinhua News Agency, Sci & Tech Daily, Guangming Daily and Other Major Media Highly Recommends Book Sweet Spring Water Benefits the World, Tells Stories of CAS on the Belt and Road
Water is the origin of all the living things on earth. In the process of global industrial civilization, the situation of water pollution is not optimistic, there are so many issues in water environment protection capacity and drinking water safety in developing countries. The "One Belt and One Road" initiative proposed by China aims to benefit people and countries along the Belt and Road through a series of effective measures to promote green, healthy and sustainable development, and build a community with a shared future for mankind.
Sweet Spring Water Benefits the World - Stories on the Belt and Road, co-authored by the Research Center for Eco-Environmental Sciences (RCEES), Chinese Academy of Sciences (CAS), and Environmental Technology and Industry Association (ETIA) of Alliance of International Science Organizations (ANSO), has won growing acclaim by major media since its publication. Xinhua News Agency, Science and Technology Daily, Guangming Daily, Outlook Weekly, Journal of Environmental Engineering, etc. have highly recommended this book which jointly tells the stories of CAS on the One Belt and One Road.
The title of "Sweet Spring Water Benefits the World" is named from the inscription "Ecological Environment Favors the Planet, Sweet Spring Water Benefits the World", which was granted to CAS-TWAS Centre of Excellence for Water and Environment (CEWE) by Academician Bai Chunli, the President of CAS, in March 2018. The book contains 28 articles related to water, from four perspectives shows readers the Chinese researchers' sense of responsibility and Chinese entrepreneurs' pioneering spirit in assisting other developing countries along Belt and Road to address problems in water safety and environment, records the experience of international students and visiting scholars studying and doing research in CAS and their practical achievements after returning to their home countries, and showcases foreign scholars and the local public's deep feelings and gratitude for large scale cooperation with China.
Since its establishment in 2013 at RCEES, CAS-TWAS CEWE has continued to focus on the significant demand of the people's livelihood in developing countries. Through mutual help and common development, a series of scientific and technological innovation cooperation has been carried out to jointly meet the international scientific and technological challenges, in order to make positive contributions to promoting the realization of the United Nations' Sustainable Development Goals (SDGs) and building a community of shared future for mankind.
The seven-year cooperation journey on the Belt and Road, had met challenges through exploration and forged ahead through development. Just like water vapor condenses into the morning dew which nourishes the ecosystem, water projects along the Belt and Road nourish the livelihood and well-being of the people they come into contact with.
The book Sweet Spring Water Benefits the World - Stories on the Belt and Road is not only a summary and prospect of CAS' scientific and technological collaboration on water and environment in the One Belt and One Road, but also a clarion call for China's scientific and technological community to further deepen important cultural exchange and collaboration with countries along the Belt and Road.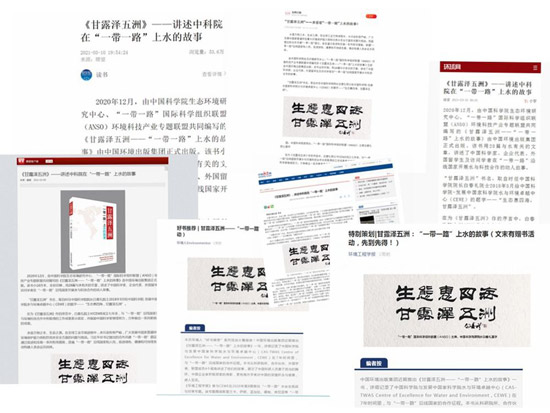 Screen capture of new book recommendation in major media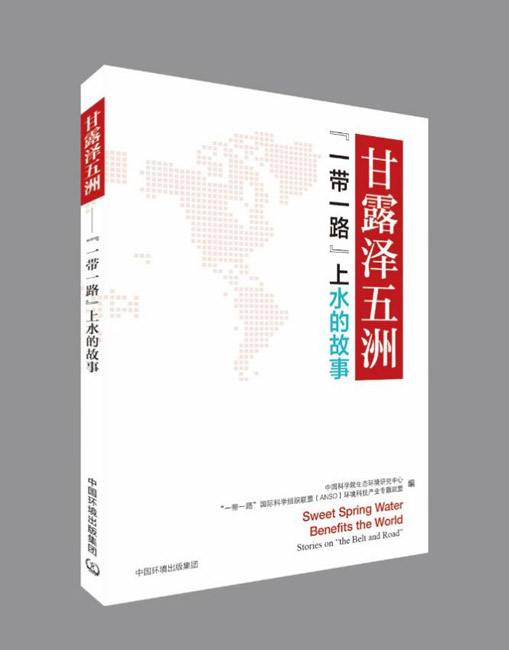 Front cover of Sweet Spring Water Benefits the World- Stories on the Belt and Road
CAS-TWAS Centre of Excellence for Water and Environment
Research Center for Eco-Environmental Sciences, CAS