JRDC 2021 International Student Admissions Completed
On July 14th, ANSO Scholarship for Youth Talents 2021 was officially announced. 6 Sri Lankan applicants were admitted by Research Center for Eco-Environmental Sciences (RCEES), Chinese Academy of Sciences (CAS), through China-Sri Lanka Joint Research and Demonstration Center for Water Technology (JRDC), and received the funding finally, including 3 doctoral applicants and 3 master applicants.
With the strong support of Graduate Student Office of RCEES, JRDC, and University of Peradeniya (UOP) of Sri Lanka cooperated closely. In February this year, 17 profiles of instructors and their research interests were submitted to UOP from the participating institutes of JRDC. On March 4, JRDC invited the Graduate Student Office of RCEES and International Relations Office of UOP and held an Online Admissions Information Session for Sri Lankan students and tutors, which achieved a good result that received 67 prospective applications.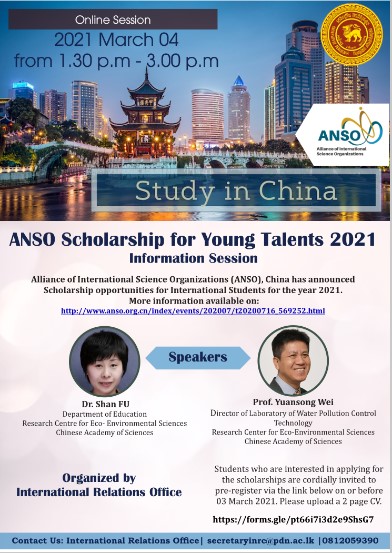 In the face of the adverse effects of the COVID-19 pandemic, with measures of Early Layout, Careful Preparation, Diligent Communication, Strict Review, from 7 Sri Lanka applicants (3 of which doctoral applicants, 4 master applicants), and finally 6 applicants got the scholarship. In addition, Professor S. H. P. P. Parakrama Karunaratne and Professor KBSN Jinadasa of UOP have also obtained funding from PIFI (The CAS President's International Fellowship Initiative) Program 2021.
Since 2015, JRDC has focused on the etiology of Chronic Kidney Disease of unknown etiology (CKDu) and drinking water safety, committed to Sri Lanka's talent cultivation and scientific and educational collaboration. With the strength of the overseas center of science and education, and at the guidance of the International Cooperation Bureau of CAS, the effect of talent cultivation gradually appears, a total of 32 Sri Lankan students (including 14 Ph.D. candidates) have been enrolled, more than 20 Sri Lankan students are currently on cultivated, 8 students (including 5 Ph.Ds ) have graduated, and 4 professors of UOP received PIFI funding.
China-Sri Lanka Joint Research and Demonstration Center for Water Technology
Graduate Student Office, RCEES, CAS
International Cooperation Office, RCEES, CAS