A Briefing and Consultation Meeting on China-Myanmar Drinking Water Safety Demonstration Project Held
On December 2nd, a briefing and consultation online meeting on the China-Myanmar Drinking Water Safety Demonstration Project was held. The participants included Yang Shouzheng, counselor of the Chinese Embassy in Myanmar, Feng Liping, director of the Information and Public Affairs Section of the Chinese Embassy in Myanmar, Su Zhe, first secretary of the Chinese Embassy in Myanmar, Yang Min, deputy director general of Research Center for Eco-Environmental Sciences, Chinese Academy of Sciences (RCEES, CAS), Luan Fubo and Wang Weidong, researchers of RCEES, CAS, president Zhou Chundong and senior engineer Wu Ping from Water Resources & Hydroelectric Prospecting and Design Research Institute of Jiaxing City, Ma Chuanfu, deputy general manager of CITIC Group (Myanmar) Co. Ltd., general manager Jiang Xingcheng, and deputy general manager Wang Dongfang from Myanmar Kyau Kphyu Electric Power Company Limited of PowerChina Resources Limited, Tang Guochao, director of General Office of Made Island Operation Center, CNPC South-East Asia Crude Oil Pipeline Company Limited (CNPC SEAOP), and Tao Lishuang, general manager of Myanmar Branch of CCCC Third Harbor Engineering Co., Ltd.
Yang Shouzheng pointed out in his speech that the Drinking Water Demonstration Project is a key project initiated by the Embassy to improve the people's livelihood in Myanmar. It is a friendly project that increases the traditional friendship between China and Myanmar and a livelihood project that helps Myanmar people with severe water shortages to obtain safe drinking water. It is a green project with scientific design and ecological/environmental concept. It is also a cooperative project that reflects major-country diplomacy with Chinese characteristics and the coordinated support of government, industry, academia, and research institutes.
Yang Min said that the project team overcame difficulties such as local unrest and the spread of COVID-19, and successfully completed the missions of field investigation, technology development and design of construction scheme. He also indicated that RCEES would continue to follow up on the use of the project, explore a sustainable technology model for safe drinking water security, continuously promote and apply the technology in the local area using various foreign aid resources, and train a group of excellent technical personnel for the local area after the completion of the project.
The project leader Prof. Luan Fubo introduced the design scheme and progress of the project. According to the results of field investigation and follow-up scientific research, and on the basis of fully respecting the local traditional drinking water culture, an engineering design scheme with the principles of green ecology, no chemicals, low maintenance and replicable promotion is put forward. A demonstration project including an ecological reservoir and a slow sand purification system will be constructed to solve the drinking water shortage problem faced by SAY MAW village and nearby villages in Kyaukpyu, Rakhine State.
The representatives of Chinese enterprises at the meeting all agreed that the project is of great significance and expressed their willingness to provide the necessary support for the early implementation of the project. Deputy general manager Ma Chuanfu and general manager Jiang Xingcheng expressed that they will provide financial support for the implementation of the project.
Yang Shouzheng concluded that the meeting was fruitful. He also hoped that the project could be implemented with high quality as soon as possible and become a brand demonstration project of China-Myanmar friendship, which can be widely used in Rakhine State and other regions in Myanmar.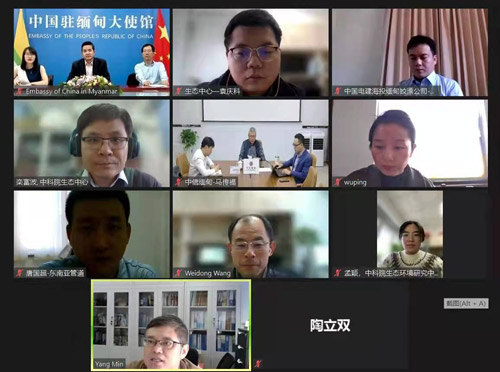 CAS-TWAS Centre of Excellence for Water and Environment