Special Seminar for Water and Sanitation Training Program
‍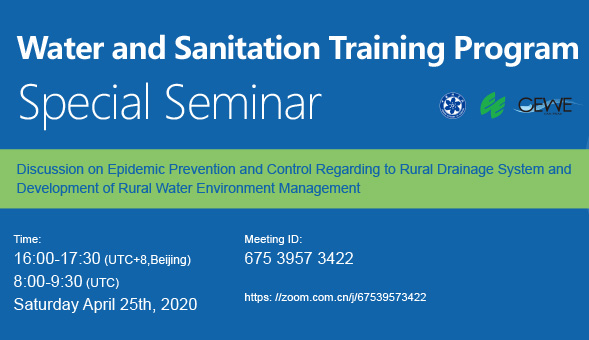 Discussion on Epidemic Prevention and Control Regarding to Rural Drainage System and Development of Rural Water Environment Management
Time: 16:00-17:30 (UTC+8,Beijing)
8:00-9:30 (UTC)
Saturday April 25th, 2020
Meeting ID: 675 3957 3422
https://zoom.com.cn/j/67539573422

The importance of risk prevention and control of the rural drainage system during the Covid-19 epidemic cannot be understated! In this seminar, Dr.Lei will introduce the background, basis and application scope of the "Guidelines for risk management amid operations of rural drainage systems during the epidemic", the foundational regulations under the epidemic situation, the protective measures for on-site operators and the key protective measures for the sewage collection system and sewage treatment plant, etc. After that, there will be a discussion on the development of rural water environment governance.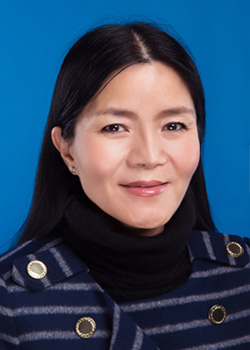 Speaker: Xiaoling Lei, Prof.
Deputy Director of Research Center for Low-carbon, Ecological and Environmental Protection of Chongqing Academy of Science and Technology
Deputy Director of Chongqing Research Center of Engineering and Technology of Sponge City Construction

Bachelor and Master of Environmental Engineering, Tsinghua University, Beijing, 1986-1994, Master of Environmental Engineering, University of British Columbia, Canada, 2002-2005.
Successively held positions in Shenzhen Municipal Bureau of Ecological Environment, Water Resources Bureau of Shenzhen Municipality, Suez Sino-french Water Development Co., Ltd. (Macau), Chongqing Jiaotong University, participated in the management, academic research and technological development of various professional fields, including municipal water supply and drainage, rural safe drinking water, water and wastewater system operation and management, Sponge City Construction, Integrated Water Environment Management, Low-carbon technology and Carbon Trading and other professional fields.

Reference Material:
Fact Sheet of Water, Sanitation and Wastewater Management for COVID-19 Prevention and Control.
http://www.castwas-cewe.org/Article/detail/fid/30/id/60.html
Zoom Video Communicatons https://zoom.us
If dial to join ZOOM meeting, find your local number: https://zoom.com.cn/u/idU4zUw8Zc

CAS-TWAS Centre of Excellence for Water and Environment,
Research Center for Eco-Environmental Sciences,
Chinese Academy of Sciences